Daniel began as a  volunteer in our resource center with Terryl but has since become one who tirelessly serves in many ministries here.  He says, "It's my  privilege to serve God.  I served the devil for so many years and now it is my passion to serve the Lord!"  Daniel is not exaggerating when he says this.  His bad company in high school led him into high level drug dealing after his graduation. He was soon buying drugs in large quantities from the "Columbians" and transporting the product for resell on the "streets". With lots of money came all the free personal drugs that he could use.  Daniel became addicted to drugs and alcohol, and his vices  would cost Him two marriages and much heartache.  Although Daniel "dressed to the nines", and had fine things, the "fast life" began to make him sick and tired.  His attendance at  Alcoholic's Anonymous meetings had exposed him to the name of "Jesus" more than once as people's "higher power", so he decided to search for a church.  He found one and during the worship service he bowed his head to pray.  Suddenly he felt the hands of someone on his shoulders and the weight of his burdens came off of him.  "I turned around and no one was there", he still recalls with teary eyes.  "I knew it was Jesus, but I still had a delivery to make."
Daniel's conversion to Christ happened as he was transporting drugs in a pick-up truck and fell asleep at the wheel.The truck flipped upside down, and he was trapped with no way out!The church service message filled his terrified mind— "be still and know that I am God".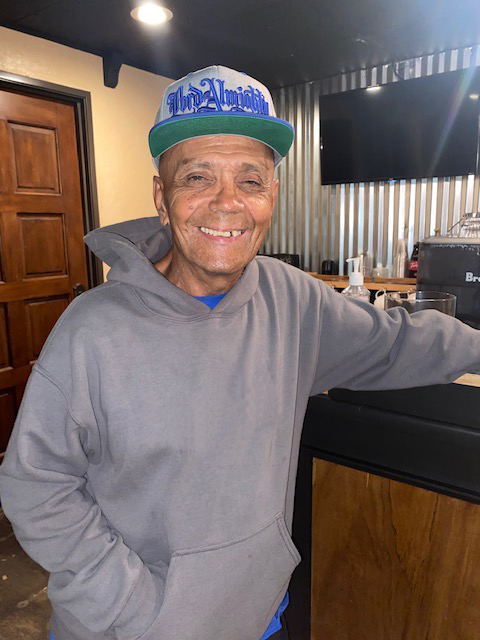 Daniel exclaimed, "I prayed, 'Jesus, if you are real get me out of here', and when I opened my eyes I was standing in front of my smoldering truck— I immediately fell to my knees and made a promise to serve Him for the rest of my life!"
Daniel made good on his promise.  He threw his drugs into a ravine that night and walked away.  The next morning he took a train to Visalia where he would find a good church and pastor that would build the foundation of his new found faith and teach him to serve Jesus.
 In 2019, Daniel moved to Southern California, when he got word that his adult daughter was in trouble.  When he found her, she had two black eyes and Daniel's old nature reared up within him to seek revenge on the abuser.  Ironically, Daniel found the culprit in our shower line at  The Way Out Ministries' resource center.  "I went to beat him up", Daniel recalled, "but  Jesus wouldn't allow it— all I could think of is how Jesus had forgiven me. Jesus also made it clear that I had come to The Way Out to hurt, but He had brought me there to serve".  Daniel has been serving here and in several other places ever since and bringing Jesus joy and healing to all he meets!